Looking for a top-quality screen protector to safeguard the display of your Samsung Galaxy A54? Here are the best options on the market right now.
The Samsung Galaxy A54 is one of the best new mid-range smartphones you can buy right now. Even though it's no match to the Samsung Galaxy S23, the Galaxy A54 delivers exceptional value for money and should be one of your top choices if you're looking for a smartphone under $500. It is, however, worth noting that its durability hasn't seen much improvement compared to the previous generation.
To help protect your phone, we've compiled a list of the best Samsung Galaxy A54 cases. However, the Galaxy A54 also uses the same Gorilla Glass 5 for its display as its predecessor, leaving it prone to scratches and scuffs. Therefore, investing in a screen protector is highly recommended. There are a number of screen protectors available for the Samsung Galaxy A54, and we've gathered the top options for you right here.
Spigen Tempered Glass for Galaxy A54

Editor's Choice

Spigen, known for high-quality screen protectors, delivers top-notch tempered glass for Galaxy A54. With 9H hardness, fingerprint-resistant oleophobic coating, and a two-pack offering, this tempered glass is an ideal choice for device protection.

Ringke Glass for Galaxy A54

Shatterproof

Ringke, another well-regarded accessory manufacturer, provides a top-notch screen protector for the Galaxy A54. This tempered glass boasts 9H hardness for effective scratch protection, as well as a 2.5D edge that ensures a smooth feel.

OtterBox ALPHA GLASS for Galaxy A54

Premium Pick

If you're looking for the best protection, the OtterBox ALPHA GLASS ANTIMICROBIAL Screen Protector is the best choice. It features an anti-shatter glass, antimicrobial protection against bacteria, and a blue light filter to protect your eyes.

Supershieldz Tempered Glass for Galaxy A54

Best Value

Alternatively, if you're seeking a more affordable tempered glass option, consider the Supershieldz tempered glass screen protector. It provides similar features to premium alternatives but at a budget-friendly price point.

JETech Screen Protector for Galaxy A54

Another affordable and feature-rich screen protector option you can consider is this JETech tempered glass. It offers 9H hardness, fingerprint and oil resistance, compatibility with most phone cases as well as camera lens protection.

Miimall Privacy Screen Protector for Galaxy a54

If you want to protect your Galaxy A54's display from scratches as well as prying eyes, then consider this privacy screen protector from Miimall. It is, however, worth noting that the in-display fingerprint sensor won't work with this protector.

Mr Shield Tempered Glass for Galaxy A54

Offering great value, the Mr. Shield 3-pack of tempered glass screen protectors delivers reliable scratch resistance for your Galaxy A54 at an affordable price. Best of all, it includes a limited lifetime replacement warranty for added peace of mind.

QsmQam Screen Protector for Galaxy A54

Another feature-rich yet affordable option is QsmQam's tempered glass protector for Galaxy A54. It features 9H hardness, a hydrophobic, oleophobic coating, and a comfortable 2.5D curved edge design.
Which Samsung Galaxy A54 screen protector should you buy
The list above comprises some of the best Samsung Galaxy A54 screen protectors available right now. However, if you still need help choosing one, here are our recommendations.
Spigen makes some of the best accessories for various smartphones, and their Galaxy A54 tempered glass is our favorite one out of the lot. It includes numerous premium features while maintaining an attractive price point.
For those seeking a more cost-effective solution, the Supershieldz tempered glass is a great alternative. It offers comparable features at a lower price, ensuring complete coverage for the Galaxy A54's display.
If privacy is essential to you, consider the Miimall Privacy screen protector. This option provides complete protection for your Galaxy A54's display, guarding against scratches, fingerprints, and oily residue. Additionally, it shields your screen from the view of prying eyes.
On the whole, protecting your Samsung Galaxy A54's display is essential for preventing scratches and ensuring its longevity. Keep in mind that investing in a high-quality screen protector now can help you avoid expensive repairs and replacements down the line.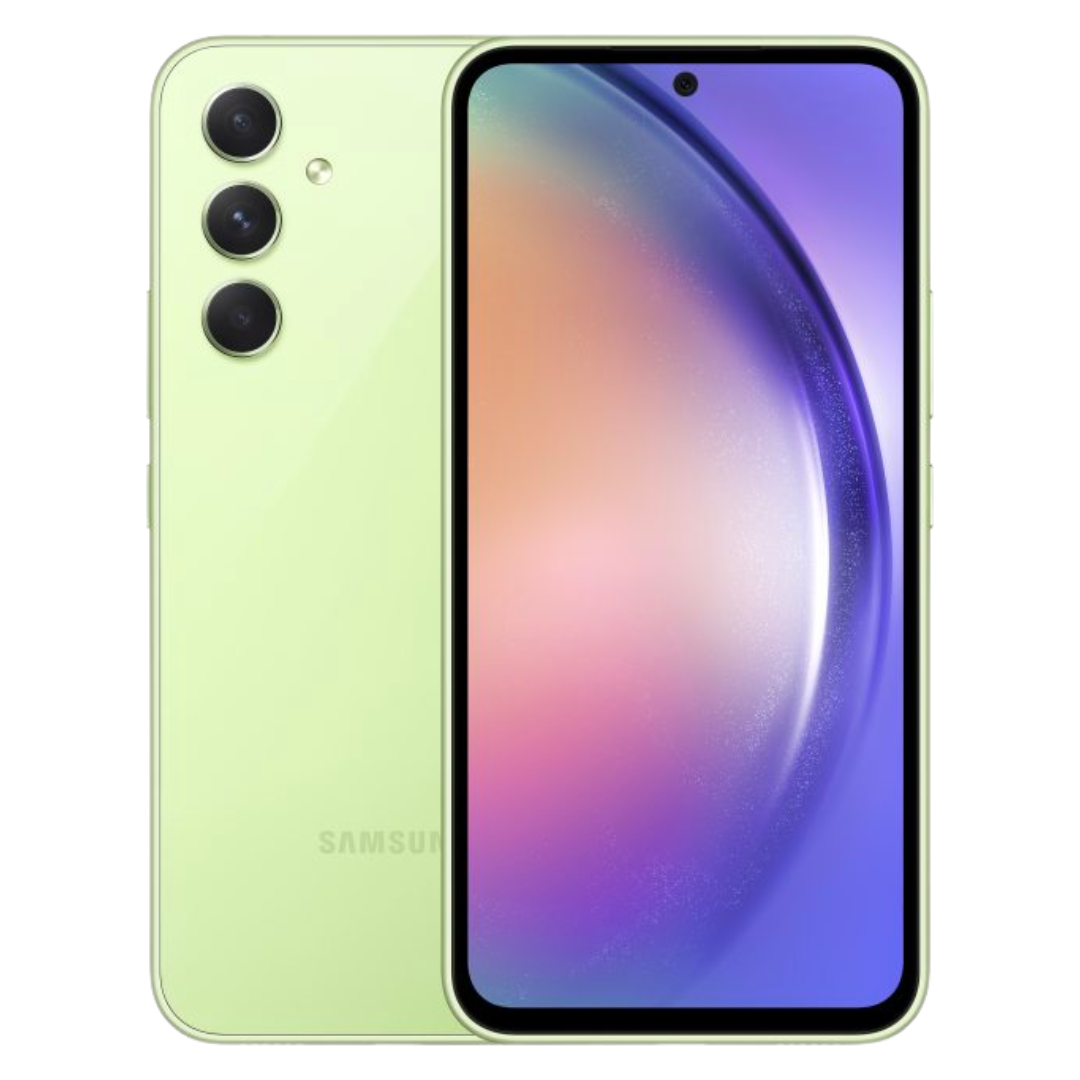 Samsung Galaxy A54 5G
The new Samsung Galaxy A54 5G comes with a two-day battery life, an excellent triple camera setup, and support for 25W fast charging, It has a compact design and a 6.4-inch Super AMOLED display and a microSD expansion slot to store your apps and photos.